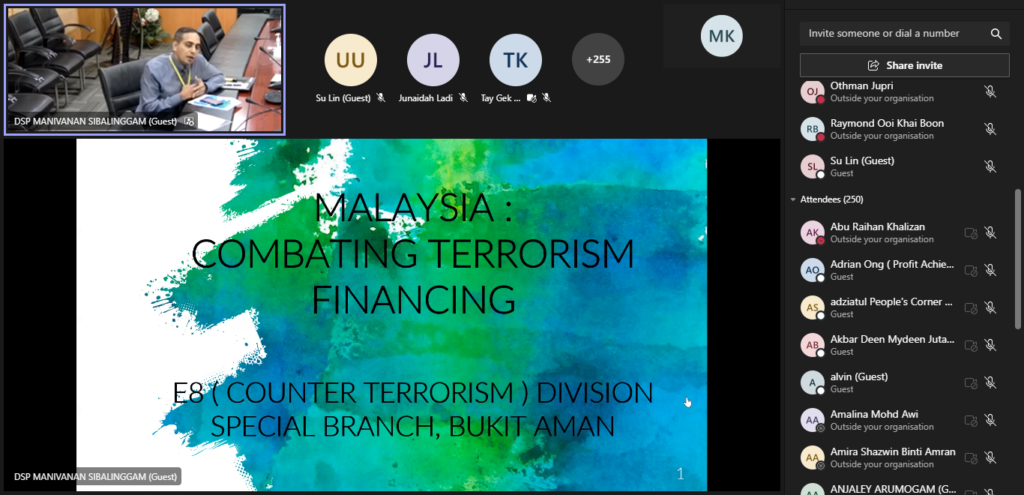 Combating Terrorism Financing in Malaysia
In collaboration with Bank Negara Malaysia and ECONG (EMI Compliance Networking Group), MAMSB and GOCO organised the Webinar Series 2 entitled "Combating Terrorism Financing in Malaysia: In-depth Session with the Royal Malaysia Police (RMP)". This 3.5 hour session was held on Wednesday, 6 October 2021 from 9.30am – 1.00pm.
Bank Negara Malaysia cordially invited Deputy Assistant Superintendent of Police Manivanan Sibalinggam, Desk Officer Terrorism Financing Investigation Unit, Division E8, Special Branch, Bukit Aman to deliver presentation on The Malaysian Scene Of Terrorism Financing and Modus Operandi Of Terrorism Financing By Islamic State And Al-Qaeda Elements. Thereafter, Bank Negara Malaysia presented Sharing of the Typologies of Money Laundering & Terrorism Financing with all the participants.
This paid event was attended by 290 members from the MSB and EMI industry and 45 officers from Bank Negara Malaysia.